REPLACES NOV. 15 RELEASE (see note below)
CONTACT: (1) (561) 309-6887 or haiti_media@turningworld.org
"Certainly, I do not want to think of this as the end of all patron-funded projects at Turning World."
― Brad Workman, Photojournalist
Independent Photojournalist Ends Project to Cover Haiti's Struggles; Looks to Future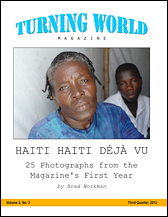 Turning World Magazine
FOREST CITY, N.C., Nov. 18, 2013 — An independent photojournalist and start-up publisher has ended his unfinished long-term project for reporting on Haiti's social and political struggles because the fundraising campaign for the project, Embracing Haiti, was ineffective. The project — including the search for funding — ended Nov. 15, and the end was first announced on the Turning World website that day.
The search for new projects for the photojournalist, Brad Workman, and work on fundraising plans for his projects production company, Turning World Communications, will continue.
"Certainly, I do not want to think of this as the end of all patron-funded projects at Turning World," Workman wrote for this release, which is part of a post-project assessment. "But we must learn more and completely rethink fundraising. We need to reach a larger audience of potential patrons yet communicate with methods and manners appropriate to the nature of our work. And we need to make it plain that we do not seek funding at the expense of any cause a potential patron considers worthwhile. A potential patron thinking of reducing or not increasing funding to such others should know to kindly bypass us or allocate extra to support our mission, too."
All of Turning World's work efforts on Embracing Haiti, including both of Workman's trips to the country born of a historic slave revolt, were financed without funding from project patrons.
With Embracing Haiti fundraising Turning World sought to cover costs of media production, distribution, and promotion (and of any feasible project expansion). Covering costs will be the fundraising goal of any next project, too.
The non-partisan project's planned media releases included a print book, a digital book, a framed gallery exhibit, and a distributable multimedia Web report. None of the still images or videos from Workman's two Haiti trips have been published or publicly displayed.
Embracing Haiti launched on July 28. Though the project plan acknowledged that a fundraising shortfall could end work early the latest fundraising deadline was originally set for July 27, 2014.
"I sincerely appreciate the feedback I received on Embracing Haiti," Workman wrote. "And I hope to always have a healthy perspective on positive comments of friends and critical comments of people I have never met."
Workman, an American, has visited Haiti 22 times since 2003 and published five Haiti-based issues of Turning World Magazine. He founded Turning World Communications in 2007.
-30-
CLICK THIS For More Information (and free photo downloads).
NOTE: This replaces a release posted Nov. 15 (and last edited Nov. 16). That release carelessly but without endorsing intent used without attribution a phrase from a speech by deceased British politician Winston Churchill. The phrase was "the end of the beginning." Turning World regrets the errors.